Clemson/USC series streaming plans set
The Greenville Drive report Saturday's Clemson-South Carolina game (1 p.m.) in Greenville will be streamed over the Internet at MiLB.TV. Friday's game (6:30 p.m.) in Clemson will stream on the ACC Network Extra. Sunday's game (1:30 p.m.) in Columbia will stream on SEC Network+.
There are ways (HDMI cables, Apple TV, Roku, etc.) to get computer streams transferred over to regular TVs. The picture quality is usually great and it's virtually indistinguishable from a cable/broadcast feed.
Claflin sets series in Lowcountry
Clafin's SIAC series against Morehouse will be played in the Charleston area March 24-26. The Friday (11:30 a.m.) and Sunday (1:30 p.m.) games will be played at Collins Park in North Charleston. The Saturday game (4 p.m.) will be played at West Ashley High School.
Drive show view from the top
The Greenville Drive's Twitter and Facebook accounts recently posted these views of Fluor Field and the new seats added atop the left-field mini-Green Monster.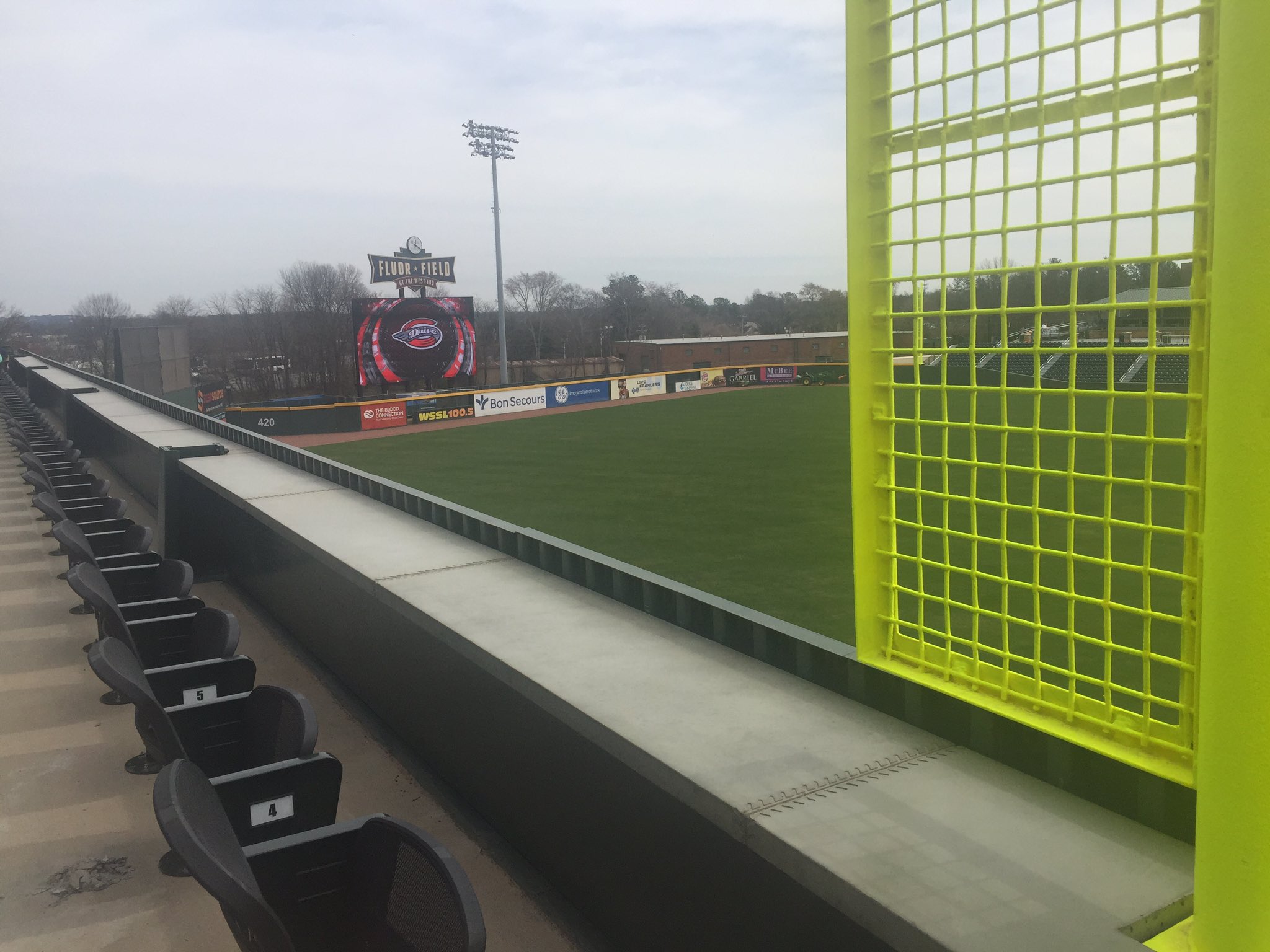 (Greenville Drive photos)
More games at Fluor Field
The Greenville Drive graciously make Fluor Field available to college and high school teams for games each year. The College Baseball Series kicks off this weekend with the First Pitch Invitational on Friday. Here's the schedule of college games at Fluor Field for this season.
March 3: Tennessee Martin vs. Presbyterian, noon; Michigan State vs Furman, 5 p.m.
March 4: Clemson vs. South Carolina, 1 p.m.
March 5: Michigan State vs. Tennessee Martin, 11 a.m.; Furman vs. Presbyterian, 3 p.m.
March 8: Michigan State vs. Clemson, 7 p.m.
March 14: South Carolina vs. Furman, 7 p.m.
March 22: USC Aiken vs. North Greenville, 7 p.m.
March 29: Wofford vs. Presbyterian, 7 p.m.
April 14: Paine vs. Benedict, 3 p.m. Claflin vs. Clark Atlanta, 7 p.m.
April 19: Catawba vs. North Greenville, 7 p.m.
May 9: Clemson vs. Furman, 7 p.m.
May 23-28: Southern Conference Tournament
Drive
Honors
Conference Carolinas
Pitcher of the week:
Mike Batten, Southern Wesleyan
Player of the week:
Chase Allen, Limestone
CC
South Atlantic Conference
Co-player of the week:
Trejon Smith, Newberry
SAC